MEL Publisher partners

The Artcurial bookstore — Paris
Located in the Hotel Marcel Dassault, the international art bookstore Artcurial adjoins that of its prestigious auction house. Specialized in rare and exhausted books, it offers a demanding selection of exhibition catalogs, reasoned catalogs, monographs ... but also objects and prints in limited editions.
Since 2002, the management of the bookstore is handled by Géraldine Martin: her collaboration with MEL Publisher demonstrates her commitment to the defense and promotion of art editions. While being available on the website www.melpublisher.com, the prints will be visible and sold all year round to the bookseller Artcurial, with whom Michel-Édouard Leclerc has forged very strong links for nearly 15 years. Having always defended the print, the multiple and the artist's book, the Artcurial bookstore has therefore quite naturally established itself as the most suitable place for the presentation of the MEL Publisher editions in Paris.
www.librairie.artcurial.com
The Huberty & Breyne Gallery — Brussels
Michel-Édouard Leclerc has known Alain Huberty and Marc Breyne for over 30 years. In the 1990s, they went together to meet such prestigious artists as Comès, Schuiten, Andréas, Manara and Tardi. Michel-Édouard Leclerc has been a frequent visitor to their galleries in Brussels and Paris since their inception, while closely following the auctions they have held at Millon and more recently under their own name. Alain Huberty and Marc Breyne have helped to sharpen Michel-Édouard Leclerc's eye in his capacity as a collector, advising him regarding numerous acquisitions and introducing him to new artists and new works, and their shared passion for Comic Strip has led to a strong and unwavering friendship. So, when it came to exhibiting its prints and forging a partnership in Belgium, it was an obvious choice for MEL Publisher to turn to the Huberty & Breyne Gallery.
www.hubertybreyne.com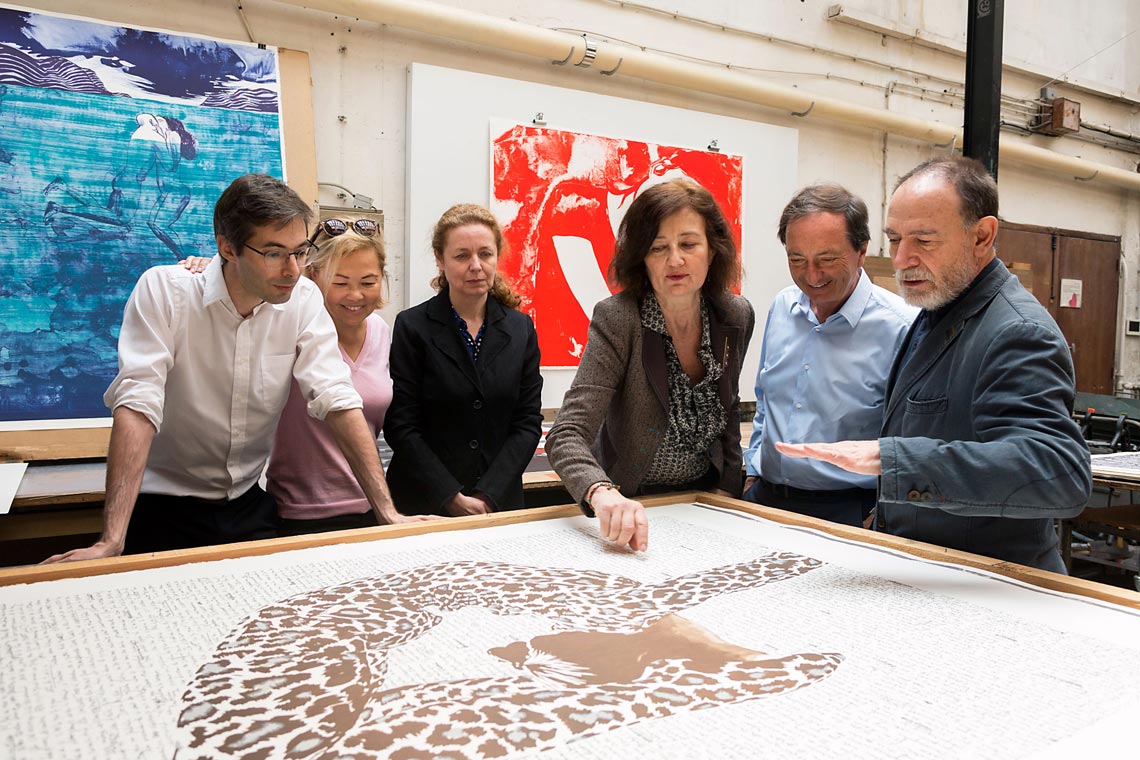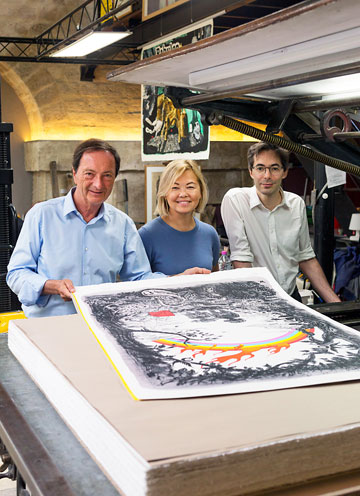 The MEL Publisher label was created four years ago by Michel-Édouard Leclerc. This publishing house aims to promote and make accessible to as many people as possible the works of contemporary artists that Michel-Édouard Leclerc loves and defends. MEL Publisher produces print editions of major contemporary artists recognized on the international scene.

In a logic of decompartmentalization of the arts, of which Michel-Édouard Leclerc was one of the main pioneers, MEL Publisher is working for the first time to bring together artists from the comic strip and contemporary art. MEL Publisher works closely with artists and printers to create the most emblematic and representative works of each artist's different facets.
«For several years I have been hearing around me employees, young people, collaborators, students who would like to have works of art on their walls but who no longer have the means to do so. In creating MEL Publisher, I wanted to make the art and artists I love accessible to all. The print is an exceptional work of art due to the rare and ancient techniques it requires, and to the close collaboration between artists and craftsmen. Printed in a few copies, they become accessible, once again allowing art to enter every home.» Michel-Édouard Leclerc
en